Creating Community Through Space
Wednesday, July 28, 2021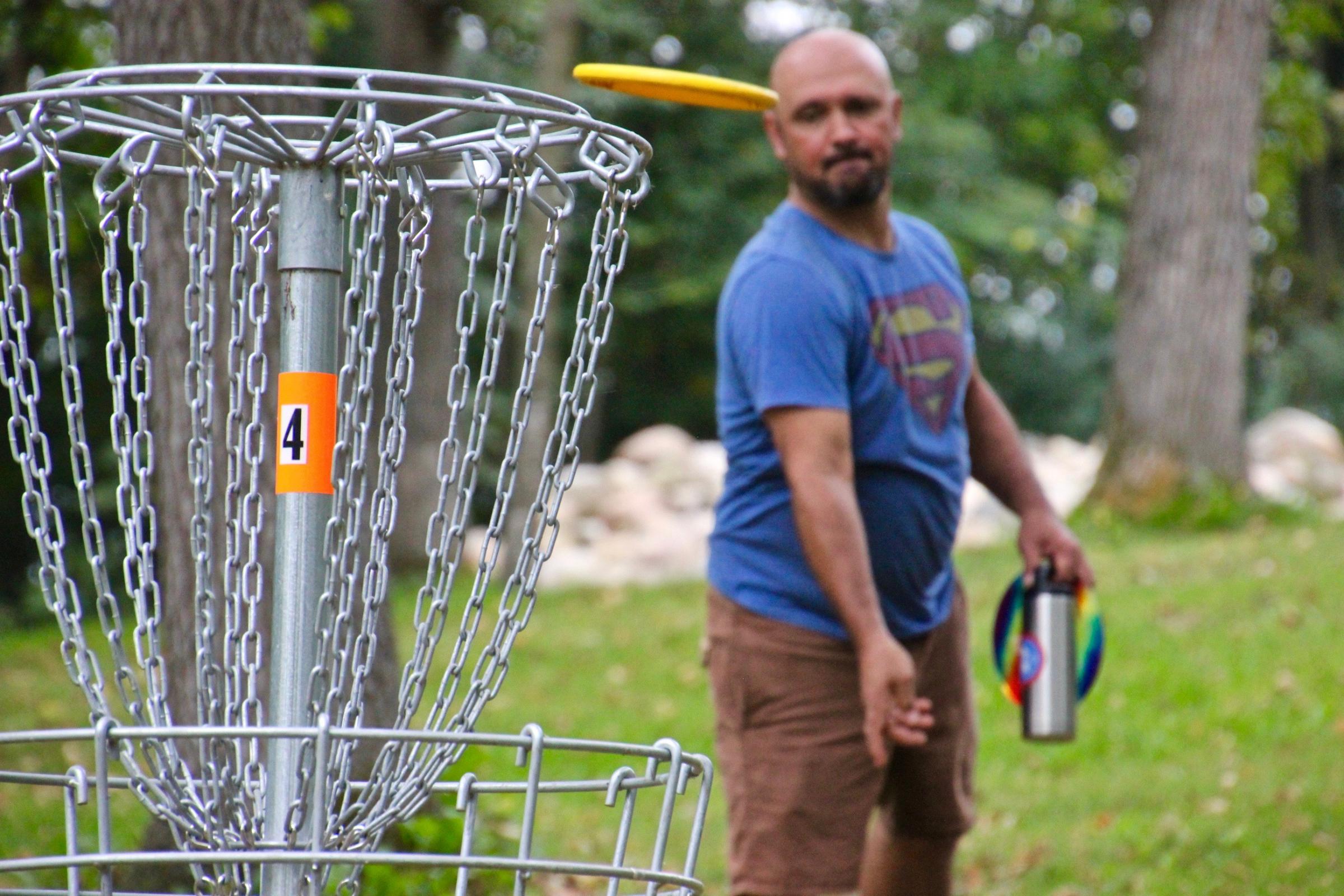 Nationally, July is Park and Recreation month. Locally, Long Prairie has a variety of parks and recreation areas for all modes of activity. Many of us have recently reconnected with the parks that make Long Prairie such an attractive place to live. For some residents it was like rediscovering a long-buried treasure from the attic. As our lives adjusted to the restrictions in our daily routines, we were able to develop new ones, perhaps more meaningful as well.
As we've done throughout the pandemic, residents of Long Prairie came together during hardship generations ago in the Great Depression. In the mid-30s, local laborers and artisans created Riverside Park. The Long Prairie River was diverted to create a swimming and ice-skating pond. A large, fieldstone building, the Sportsman's Club, was erected, as well as a 16-foot fieldstone observation tower. Their historic remnants stand as a legacy to the local workers of the WPA.
A quick review of Long Prairie parks shows not only a diverse and culturally significant, but as places that bring people together; our parks create community.
· Westside Park: playground and lighted soccer field
· Locke Park (Circle Park): playground
· Water Tank Hill: scenic view of downtown and the fairgrounds and winter sledding
· Riverside Park: WPA project, historic park
· Lake Charlotte Park: swimming beach, volleyball, basketball court, lighted softball field, picnic shelters, playground area and disc golf course
· Harmony Park: walking paths, three mosaic art projects, soccer field and in winter, weather permitting, ice skating on the pond.
It is not surprising that many of the local parks have their own advocates and volunteers who take on simple upkeep and maintenance. They can easily be found on social media outlets like Facebook, Instagram, Pinterest, and Twitter, promoting events and sharing photos. In town, there is something magical about playing soccer under the lights on a hot July night, or experiencing the sting of brisk winter air while flying down a sliding hill in January. Having variety is great, and having a central park for the community is essential to promoting a sense of place. In Long Prairie, Harmony Park is recognized as the community gathering place, and with the help of a new makeover, funded by an economic development grant, Harmony Park will lead Long Prairie into the future.
Creating Community Through Space
In 2020, Long Prairie was one of six communities selected to receive a grant from the Welcoming Communities Advocacy Program. Led by the Region 5 Development Commission, this 18-month program was designed to help communities increase intercultural agility and to bridge differences while building on the community's assets. Funded by Northwest Area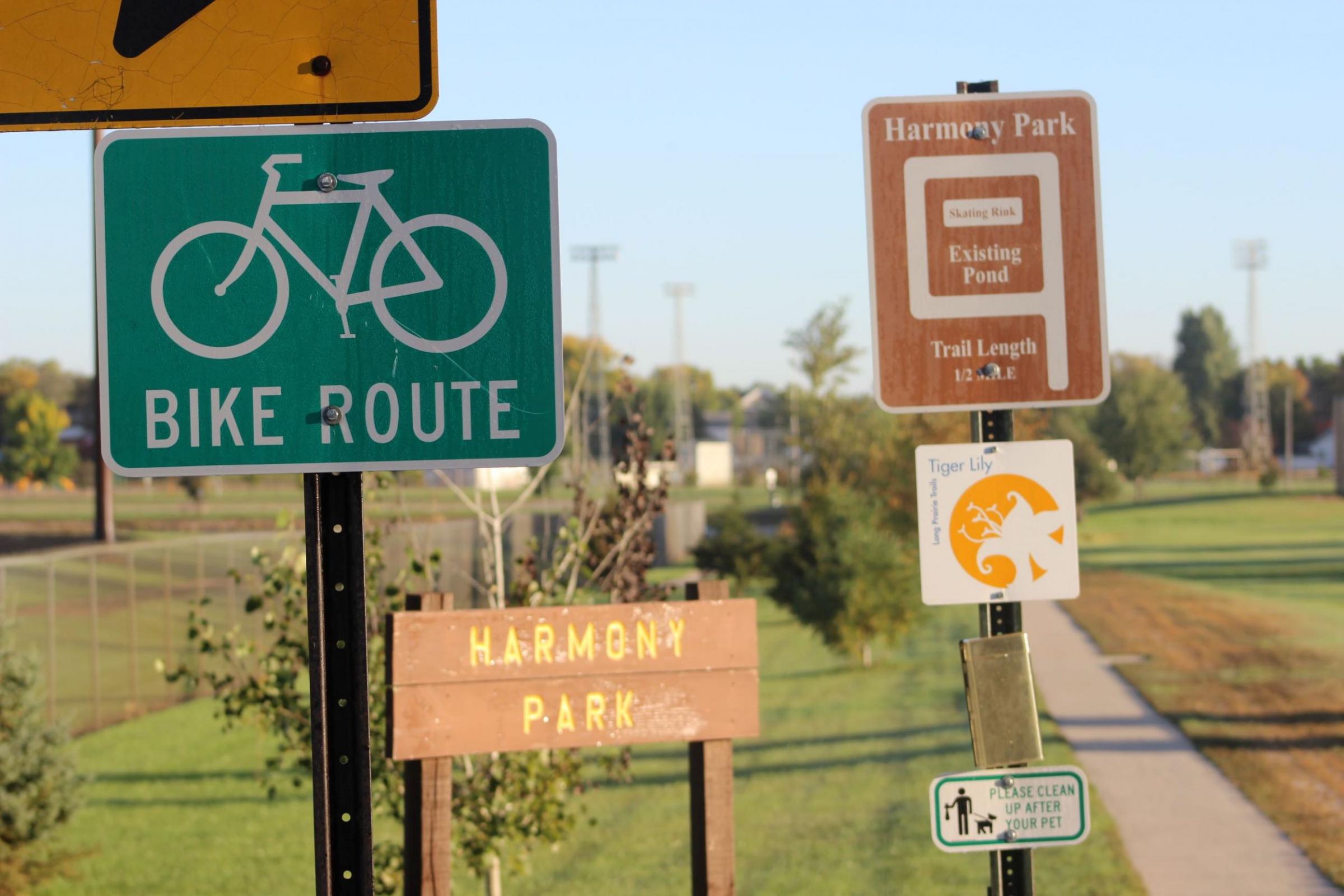 Foundation, the Welcoming Communities Advocacy Program provides $10,000 to fund a community project that highlights and showcases the Welcoming Communities Initiative. Long Prairie was asked to focus on Placemaking.
Placemaking is a "multi-faceted approach to the planning, design and management of public spaces. Placemaking capitalizes on a local community's assets, inspiration, and potential, with the intention of creating public spaces that promote people's health, happiness, and well-being."
It made perfect sense to everyone that Long Prairie's centrally located Harmony Park has always been the community gathering place, and would greatly benefit from an upgrade. The project is working with local contractors to create a canopied seating area for small community gatherings. Harmony Park has easy access to all of our neighborhoods, naturally attracting everyone to share the same space; a space where families can enjoy the benefits of why we all live in Long Prairie.
Creating a Welcoming Space at Harmony Park project overview:
· In partnership with local contractors, provide a shade structure with seating for small group community gatherings.
· Create a more scenic, inviting, and interesting landscape and added share-areas throughout the park with the addition of trees, bushes and native flowers.
· Engage with local artists to design permanent family friendly games [hopscotch, four square, chess/checkers, scavenger hunt].
· Coordinating with a local woodworker to create a 'little library' for people to exchange books.
· Plan to host community events to bring the community together for conversation.
Long Prairie has an exciting opportunity to upgrade the community space at Harmony Park. The city has been awarded a grant, but the total budget put together by the Welcoming Communities Advocacy Group estimates a cost of $15,000. An additional $5,000 is needed to take full advantage of the grant. The time has come when the well-thought of but never designated money for parks gets it day in the sun. Investing in our park sends a message to the community that this is a great place to live and we're invested in creating a great place where people can come together in "harmony" in all seasons for generations to come.
Contact Dawn Espe at despe@regionfive.org, or 218-894-3233 if you are interested in learning more about participating in this program.
As we welcome together our diverse community, we are never far away from the ties to our early settlers at Lake Charlotte. Charlotte O. Clark Van Cleve's namesake is as deep in places as the nearby quarries and is a popular regional fishing, boating and swimming destination.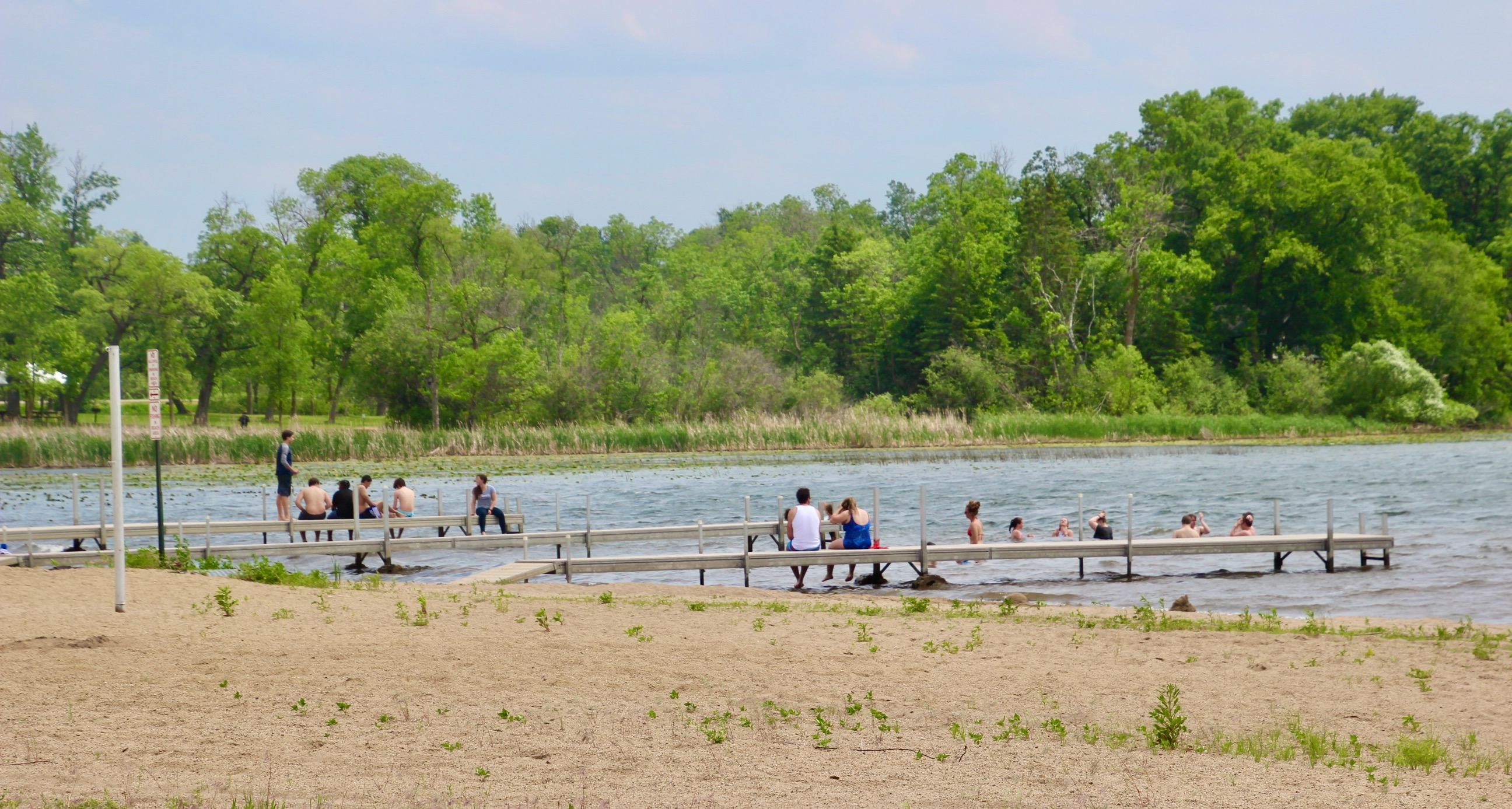 The Lion's Lake Charlotte Park has a day-use beach with swings, beach volleyball, men and women's changing rooms, and restrooms, a fishing pier, a boat launch, and a playground. There are also three picnic pavilions, two small and one large, that are available to rent from the city. In addition, Lake Charlotte is home to a challenging 11-hole disc golf course.
Since the park was built in the 1940s it has been making memories for several generations of Long Prairie residents according to local historian Jeff Lucas, founder of a Facebook page to gather the stories. "Oh, but the memories of those summer days climbing the rocket, both inside and outside, if you were brave enough. The spinning dome thing, the 'ketchup', 'mustard', and 'mayo' horse swings. The hot metal slide…a pretty good chunk of a certain generation surely has a Lion's Park scar somewhere..."
In his post, Jim Chyba III recalled the park's origins. "The city of Long Prairie built the park when I was a kid. This piece of land was a swamp, it took many loads of fill to fill it. The city added every year, with help from the KC with their fire ring, and the Lions with shelters and bathrooms," noted Chyba, recalling that "for years a man named August (Augie) Steinerd was the caretaker living in what are now the bathrooms. He also worked at the ice skating rink in the winter. He was a good guy, loved his job and took a lot of pride in the park."
"My parents had a home on Lake Charlotte so I spent many hours at that park and beach," recalled Dan Mueller. "I also remember Augie very well. I remember the day the rocket was assembled. It took about a week to finish and I was the second person to go down the slide... Augie was the first. It was like having my own big playground. A wonderful place to have lived and played. On summer evenings Augie would sit by the door of his house and chat with people walking by. He was a wonderful Man."
No matter how you fill your calendar, take advantage of any one of Long Prairie's parks where you can participate in park and recreation month all year long, and make your own memories.