Poised to Lead the EV Charge
Monday, August 16, 2021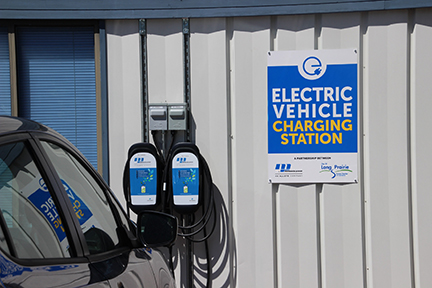 In 2020, Long Prairie applied for and was accepted in a new incentive program from Minnesota Power to install a 2-port electric vehicle (EV) charging station. "In order to increase the number of publicly available charging stations in northeastern Minnesota, Minnesota Power is purchasing 20 electric vehicle chargers that will be donated to qualifying customer host sites. In addition, Minnesota Power will rebate customers for installation expenses up to 80% of the cost with a maximum payment of $1,500," reads the press release announcing the program. Minnesota Power will select the recipients of the chargers based on location and the suitability of each site for this program. In February, the station was installed by ARC Electrical Service of Long Prairie, and is up and fully functional.
The recent installation of an electric car charging station is a first for Long Prairie. The day may be marked in the history books along with the first telephone, the coming of the railroad, electricity, and the first car. A mere century ago we were entering in the era of the gas combustion engine in mass-produced automobiles. America was about to hit the road. Today, to stay on that road, the future is the electric car, and Long Prairie is poised to lead the way in charging these EV's in central Minnesota.
The current driving distance range for an electric vehicle is limited, which presents an economic development opportunity to invest in charging stations. Depending on various factors such as voltage, vehicle model and battery, it will take time to charge a vehicle. Rapid charging units currently on the market can charge an EV (Electric Vehicle) up to 80% in 30 minutes. This leads to more opportunity to add amenities for the customer while they wait. You could compare it to stage coach stations from yesteryear. "Surveys show a large majority of EV drivers make a purchase when charging at a retail location, and most prefer to shop at businesses that offer EV charging," says Minnesota Power.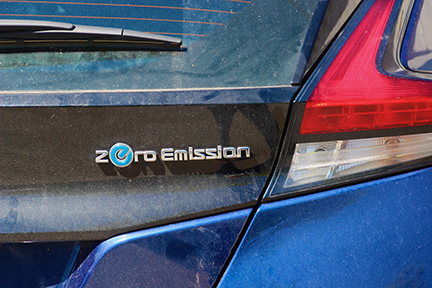 Offering EV charging station is a visible sign of a commitment to the environment that increases your bottom line while preparing your establishment for the future. "As EV adoption grows, charging stations are good for business because they attract and retain customers, residents and visitors." Other possibilities include commercial buildings, multifamily housing units, and public parking, where you can "attract the growing EV customer base and increase revenue."
The Long Prairie charging station, attached to the side of the city building which houses the Great River Regional Library, the Long Prairie Area Chamber of Commerce and the Long Prairie Economic Development Authority has two, Level 2 chargers that require a 240-volt circuit. (Most home EV charging stations use standard 120-volt service). The station has two connectors, or ports. The units will come with a five-year warranty, data, and maintenance plan. In full transparency, these are "smart" chargers, says Minnesota Power. They have the ability to collect data about charging sessions, vehicles, usage, and other data. Minnesota Power will collect and analyze data; information like session length, session kWh, 5-minute power values, 5-minute metering values, 24-hour RSSI strength, 5-minute Plug state, and error status reports. *
*"Donee further acknowledges that none of this information shall involve personally identifiable information of EV Charging Station users."